Join us at Wild River Grille on Thursday, November 3rd from 4:30-7pm for "Angels, Art, & Apps", a Saint Mary's Angels Fundraiser. Enjoy cocktails, appetizers, a silent auction, a raffle, and art with 100% of proceeds benefitting local Nevadan Adam Hallford, and his family.
This amazing event was created by the wonderful team at Saint Mary's, who are one of Wild River Grille's fantastic partners. The hardworking team over at Saint Mary's Fitness has created a program they have named "Saint Mary's Angels", and it exists to help families like the Hallfords who don't fit the standard mold in receiving traditional assistance. Please help them support a fellow Nevadan that is experiencing incredibly difficult times by buying tickets or donating to their amazing cause. To find out more information or to donate today, visit their website at SaintMarysFitness.com/Angels.
But Wait! The Fun(draising) Doesn't Stop There!
There will be an Open Gym on Saturday, November 5th at Saint Mary's Fitness Center. That's right!?! Saint Mary's Fitness Center will be open to the entire community all day long,
with no membership or sign-up required! We only ask for a donation of whatever you can
give when you arrive.
Together, we are #StrongerAtSaints.
Wild River Grille Supports Our Community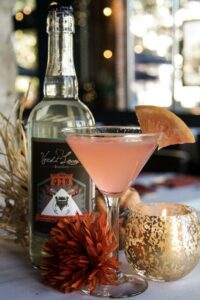 Wild River Grille is known for serving up a constant array of creative and casual cuisine. But did you know that our amazing dishes are so mind-blowing due to the fact that we get most of our food from local Reno distributors and purveyors?
That's right! Keeping it local makes all the difference, and it doesn't just stop at our cuisine. Our local pride can be celebrated throughout our seasonal drink menu as well. All of our cocktails are made with fresh ingredients and include spirits from local companies such as Verdi Local Distillery, Organic El Sativo Tequila and Surface Gin. Curious beer drinkers can even sample and compare local brews on tap from our partners at Great Basin Brewery, Revision, and The Brewer's Cabinet.
Are you feeling thirsty yet? View the full menu online at wildrivergrille.com, and make your reservations today by calling (775) 284-7455.