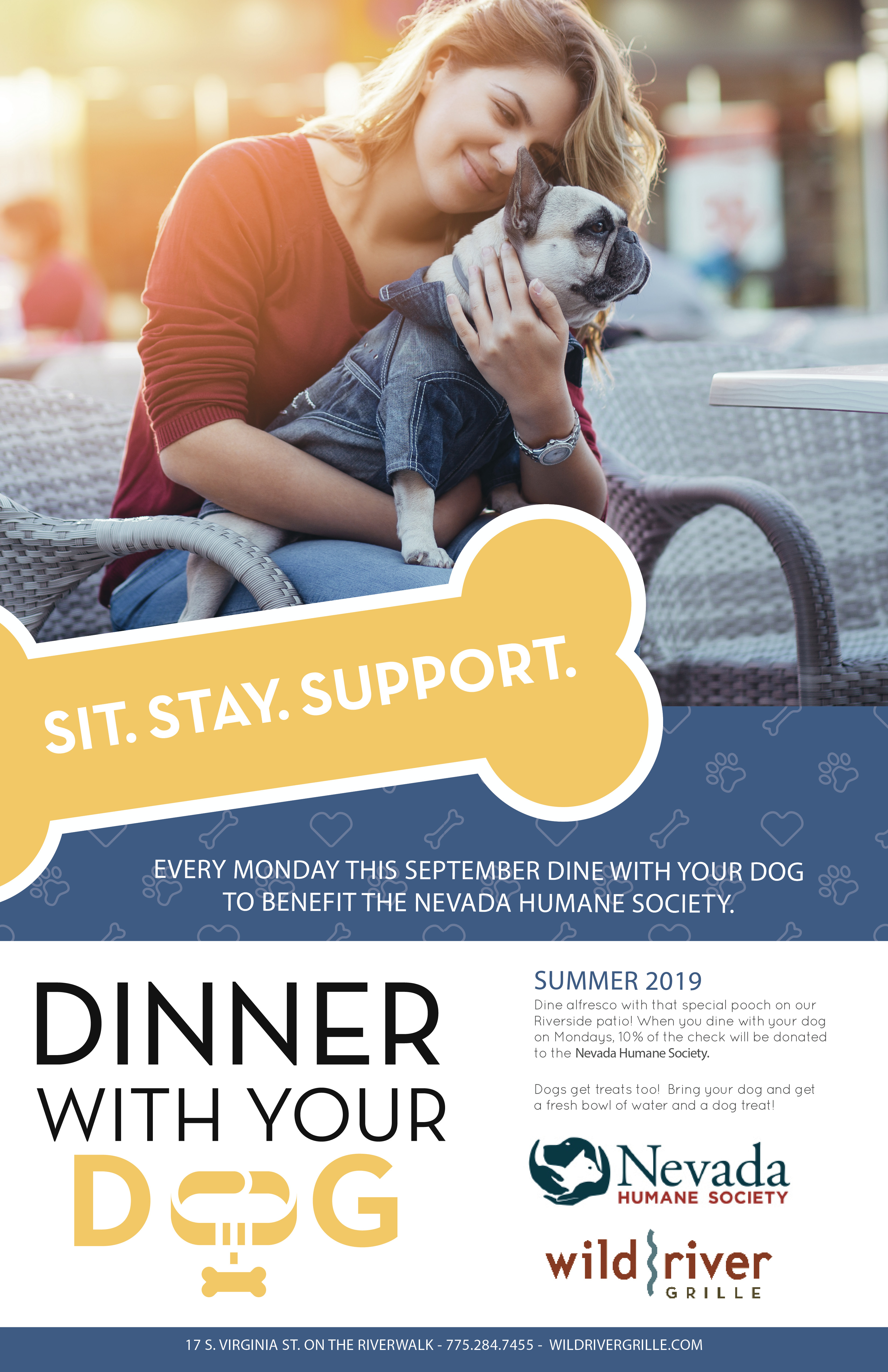 Dinner with Your Dog Supports
Nevada Humane Society
Wild River Grille's Dinner with Your Dog event
the entire month of September!
Bring your best friend for Dinner on our outdoor patio every Monday during the month of June and Wild River Grille will donate 10% from every entree to the Northern Nevada Humane Society.  Located at the Wild River Grille along the Riverwalk District in Downtown Reno.
Think how often our dogs are our very best dinner partners… they don't need small talk, don't try to split the bill and hang on our every word or bite (often hoping we'll spill a few in their direction). So what better way to reward their good behavior than taking them out to eat? Wild River Grille, located along the scenic Truckee River at 17 S. Virginia, is offering its annual Dinner with Your Dog event. Bring your favorite dogs to dine during the month of September, and a percentage of the proceeds go to the Northern Nevada Humane Society, a local 501© (3) charity, and local no-kill animal shelter.
Offering a wide variety of gourmet entrees as well as quality wines and top-of-the-line brews, Wild River is the perfect place to enjoy Reno's natural beauty while helping the community.
Nevada Humane Society is a non-profit organization incorporated in 1932. It was originally created to address the horrible suffering of local stray animals, which were systematically rounded up and held in a giant pen "out in the country" on Glendale Avenue. Through the tireless efforts of Enid Johnson and Genevra Kimpto, the City of Reno finally recognized the need for a higher standard of care for animals – and Nevada Humane Society was born.
Help the community and enjoy a great meal by participating in the Dinner with Your Dog event. For more information contact (775) 284-7455. And to learn more about the Northern Nevada Humane Society go to nevadahumanesociety.org.