These restaurants are raising the dining stakes in the Biggest Little City in the World.
Today marks the 150th birthday of Reno, and the Biggest Little City in the World is coming up aces when it comes to dining. Forget the slot machines; the food (and drink) at these Reno spots will make you feel like you've hit the culinary jackpot.
https://www.foodnetwork.com/fn-dish/restaurants/2018/5/what-to-eat-in-reno-nevada
Abalone at Atlantis Steakhouse
Housed in the casino of the same name, this acclaimed restaurant features all the trappings of a high-end steakhouse: a sleek interior, stellar wines and splurge-worthy cuts. Flambeed dishes add a touch of drama to the Atlantis Steakhouse dining experience, with the Steak Diane, Bananas Foster and Cherries Jubilee all set aflame in tableside presentations. Atlantis really raises the stakes, though, with its California Red Abalone. This highly sought-after shellfish comes impeccably prepared in a lemony, buttery sauce.
Pork Chop at Wild River Grille
Sure, Wild River Grille has a casual vibe, but its superb New American cuisine and scenic riverside views have fast made it a local favorite for celebrating special occasions. In the warmer months, patrons pack in to the spacious patio overlooking the Truckee River to dine al fresco. The food does not disappoint. Beloved standards like meatloaf, short ribs and French onion soup are subtly tweaked with seasonal, locally-sourced ingredients. Go all in with the Tomahawk pork chop paired with fennel-studded polenta and a bright punch of ginger and pear chutney. This all-natural, Berkshire bone-in chop clocks in at 14 ounces, making it a perfectly shareable portion. No judgements here, though, if you decide to treat yourself to the entire chop.

Crème Brûlée French Toast at Chez Louie
Located in the soaring lobby of the Nevada Art Museum, this contemporary French restaurant turns out an Instagram-worthy lineup of dishes that perfectly complements its creative surroundings. With all that modern art around, no ho-hum menu options will do. Chez Louie really steps it up for Sunday brunch with live music and extra-decadent dishes like the Creme Brûlée French Toast. Caramelized, custardy slabs of bread come adorned with whipped cream and fresh berries.

Mai Tai at Death & Taxes
Don't be fooled by the quaint exterior of this historic building. Step inside and you'll see why Death & Taxes is arguably the coolest spot in Reno. The cocktail lounge has a Victorian-goth-meets-Wild-West aesthetic. Massive chandeliers hold court above a sleek bar flanked by studded black bar stools on one side and a glittering array of liquor bottles on the other. This impressive whiskey selection, along with a near obsessive focus on using fresh, seasonal ingredients, has earned the spot its reputation as the best bar in town. The menu offers an ever-changing array of craft cocktails, along with classic libations like the Mai Tai. This traditional tiki cocktail may seem out of place here, but it's done to perfection with Skipper Demerara rum, Plantation dark rum, banana, pecan, pineapple and lime.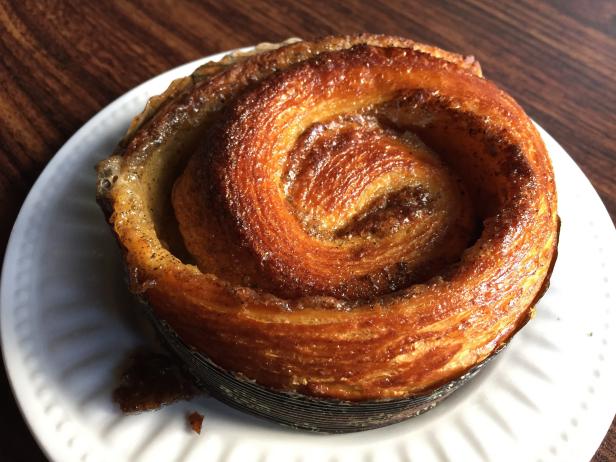 Pastries at Homage
Locals cozy up to steaming mugs of coffee and superb pastries at this boutique bakery set in a 1920s home. Owner and pastry chef Nicholle Alumbaugh turns out an outstanding selection of baked goods shot through with unexpected flavors. Case in point: Alumbaugh puts a subtle twist on a simple favorite by adding dried figs and crushed fennel seeds to oatmeal cookies. The lineup of cookies, muffins and French pastries switches up regularly, but keep an eye out for the Malabar bun. Glazed in demerara sugar, this Danish pastry has hints of cardamom and black pepper throughout. It's familiar and exotic all at the same time.
Pho at Toucan Charlie's Buffet & Grille
Sprawling buffets are as plentiful as slot machines in a casino town like Reno, but Toucan Charlie's Buffet & Grille stands out for its unique selection. Sure, the buffet area features all the standards like seafood, salads, desserts and a carving station. But it also caters to more adventurous tastes with lesser-known specialties like the chile-studded Mexican stew known as posole, which beckons along with the mounds of carnitas beside it. There's even a station devoted to fresh pupusas stuffed with the filling of your choice. But the standout station may well be the one serving made-to-order bowls of pho. Noodles are dipped in broth, then piled with your choice of meats and other toppings. As with any pho, it's all about the perfectly seasoned broth, and the recipe is a secret more closely held than a winning hand of blackjack.
Beer at The Depot
The glory days of train travel may have long faded away, but crowds still stream into this former railroad depot. These days, though, The Depot deals in craft suds instead of rail ticket stubs. Step inside this elegant building that dates backs to 1910 and you'll find a meticulously restored interior that houses dining rooms, a large bar area, a brewery and a distillery. In fact, The Depot holds bragging rights as the first combined brewery and distillery in the state. The draft selection typically includes at least six classics and six seasonal options that switch up regularly. The best way to tackle the beer menu is to try a flight and proceed from there. The pub bites pair perfectly with the beer, making The Depot a great stop for fueling up before, during or after a crawl along the hip E. 4th Street corridor.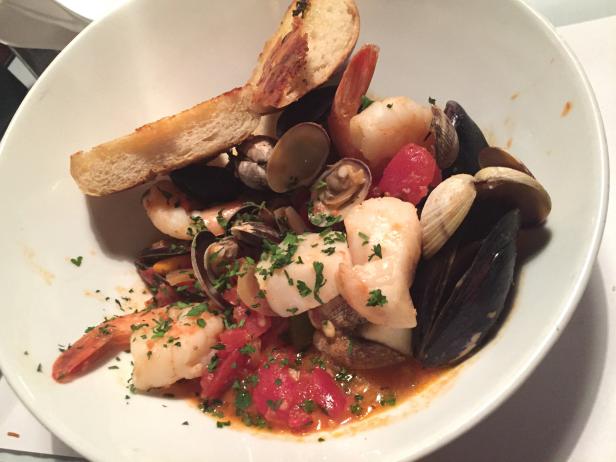 Cioppino at Rapscallion
This old-school seafood house has been holding court in Reno's dining scene for more than 40 years. It's a lively place that exudes a classic timelessness, with cozy booths and waiters in white jackets who provide top-notch service. Most importantly, the fish is impeccably fresh and well-prepared. And the Wharf Style Cioppino is like hitting the seafood lottery. Rapscallion's take on San Francisco's signature stew brims with clams, mussels, crab, shrimp and scallops. The seafood is delicately poached, then served in a soupy sauce of peppers and tomatoes with a hint of horseradish. The restaurant also offers steak and poultry, but it's the seafood that keeps luring guests back.
Yakitori at Kauboi Izakaya
A stellar selection of Japanese small plates awaits at Kauboi Izakaya. The spot is modeled after a typical izakaya or Japanese gastropub serving shareable plates to be paired with drinks. However, this spot has a bit of a Western twist (kauboi translates to cowboy). In addition to the Old West-inspired design accents, the restaurant bills itself as the first in Reno to feature Japanese charcoal grilling. Order a yakitori (grilled chicken) dish and you'll get a tender and juicy morsel of chicken with a touch of char, glazed in a rich sauce. Options include breast, wing, thigh, heart and tsukune (chicken meatball). Yakitori may be the menu highlight, but all the dishes here are outstanding. The menu is divided into sections that include clean (all cold and mostly raw dishes), tempura/fried, kushiyaki (skewers) ramen and dumplings.
Burgers at Midtown Eats
This hip restaurant exudes a modern vibe, thanks to its industrial-looking interior and elevated New American cuisine. But it's an old-school favorite that continues to be a major draw. Long-time fans can't get enough of the burgers. Stick with the signature pick and you'll get a half pound of beef blanketed in white cheddar cheese and stacked with onion, tomato and lettuce.