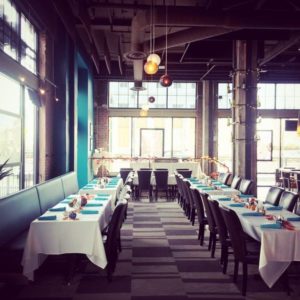 Wild River Grille is THE place to be for delectable cuisine, delicious cocktails, fine wine and friends! What better way to enjoy all of these wonderful things, then to host an amazing event at this downtown Reno staple. Our experienced banquet team will be delighted to assist you with the planning of your special day, and our staff is dedicated to delivering great food, drink, and exceptional service. Whether you are looking for something small or large, simple or extravagant, we will work with you to create the perfect event for your desires and budget. We love to help our guests celebrate momentous occasions such as wedding receptions, baby showers, or family reunions. We also specialize in hosting business meetings, pharmaceutical dinners, or work parties. Be the host with the most by booking your next event with us today!
Give our experts a call at 775-284-7455 or email info@wildrivergrille.com. 
As temperatures climb, so does the need for a nice cool drink to beat the heat. Sometimes the hottest of summer days really just call for a delicious boozy beverage. Stay refreshed this season with some of our newest cocktails. Try our 'Local' Verdi Lemon Whiskey cocktail, "Bet it All on Black (berry)" with fresh blackberries and fresh-squeezed lemon juice. Or check out our newest edition of 'Local' El Sativo Organic tequila in our seasonal cocktail, "Tequila, Lime, and Summertime" with Aperol, fresh lime juice and soda water. Feeling thirsty yet?
Take a moment and view our full cocktail menu online at www.wildrivergrille.com or try them all yourself by making reservations today. Plan a refreshing night out by calling 775-284-7455.