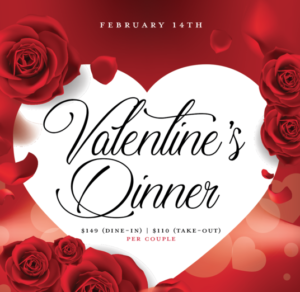 Wild River Grille has provided romance and nourishment to those falling in love for decades. From its beautiful
riverside patio
 to the many romantic 
summertime concerts
, Wild River Grille has allowed love to flourish the streets of downtown Reno. This year the owners are inviting guests to join them at their legendary restaurant for an unbelievable five-course gourmet dinner served with a special side of romance. The menu will only be available on Sunday, February 14th and is $149 per couple. A decadent three-course take-out option is available for just $110 per couple.
Couples seeking reservations can call 775-284-7455
Stay home and enjoy the best restaurant in Reno by ordering our

Curbside Date Night Special

for $100. More than anything the Wild River Grille family wants your family to always feel safe. We completely understand that dinner at home might be what works best for you and your loved ones. Wild River Grille wants you to know that it is dedicated to providing all our guests with a wonderful and delicious meal anywhere.

Our $100 Date Night Special includes a 3-course dinner for two plus a bottle of wine!
Please give us a call at 775-284-7455 to place your order today.